When furnishing and planning interiors for modernist homes, there are a few design principles we followed. It also occurred to us that there is no 'rule' for how to 'wow' your interiors. Some people prefer luxe, a fusion of old and new, or cool sharp lines. It all depends on how you live, whether you have kids, whether you have a relaxed style or are a neat freak and so much more. The location of your house is also important to consider. Inland, suburban and country locations tend to infuse a different vibe to coastal and beach locations.
Here's what we learnt:
Furnish for the right proportions and scale of your modernist home: A lot of P+S and modernist homes were smaller in footprint than today's 'McMansions'. That means the average furniture store selling sofas will have massive L-shape concoctions which just don't fit or make your room seem smaller. Measure and mark out with masking tape before you start shopping. Walk around the space a lot. Photograph. These homes were not meant for loads of heavy-set side tables, Federation-period lights or traditional iron bath tubs.
Keep

materials

authentic in origin or period, even if the

piece is

new": Timber, brick, paint, glass are the most consistent materials in mid-century and modernist homes including "International Style" and "Sydney School" homes. Homes which were afforded more embellishments tended to have more glass and features like clerestory windows, they might have featured intricate or geometric tiles, and special details but generally they were simple and almost 'zen', taking a nod from the tranquility of Japanese post-and-beam architecture.
Don't be afraid of colour: If colour makes you happy, there are great examples of how to use it with brands like Marrimeko through to Ikea. You can mix and match depending on the space (such as kids rooms) or tone down in other spaces where you want to relax. Palettes of greys, browns, whites and blues allow for intimacy and a calming zone. Bright colours in outdoor accessories, entertainment, play or children's areas are easy to create.
Invest in your lights: Lighting is an investment in both art and utility. We didn't go wild on our major pieces but we selected 3 major pieces: one for the kitchen, one above the stair well, and one in the dining room. These are your 'wow' opportunities.
Some brands which cater to smaller footprints and contemporary lines include:
B&B Italia e.g Patricia Urquiola
Workshopped / Australian Design Centre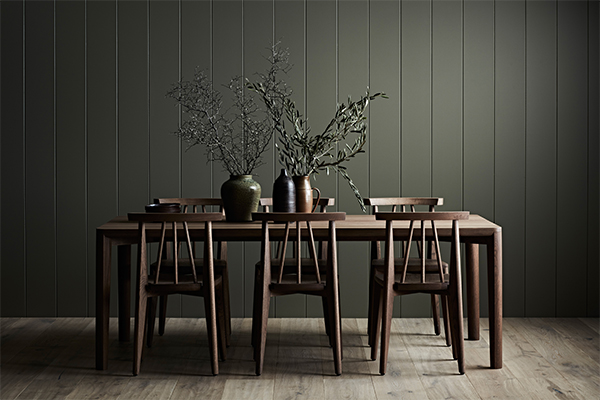 Bo Concept
King Furniture
Marimekko
Modern Times
The MidCentury Store
Grandfathers Axe
West Elm
Living Edge and many more.